Join us at the West Texas Oil & Gas Show
March 7-8 2018 | Booth #305

See you all there!


---

See LEC Lightning Protection Products on display at STOCEXPOEUROPE
March 20-22 2018 | On Stand C20
See you all there!
---

Stop by and visit LEC at the 10th Anniversary NISTM Show
January 16/17th 2018 | Booth #714
See you all there!
---

LEC is sharing a booth with Integrated Controls at the Oklahoma Oil & Gas Expo
October 12, 2017 | Booth #938
See you all there!
---



Learn about Lightning Protection for the Oil & Gas Industry
October 17 & 18th, 2017 | Midland Horseshoe Pavillion

Click here to go to get a free ticket!.


---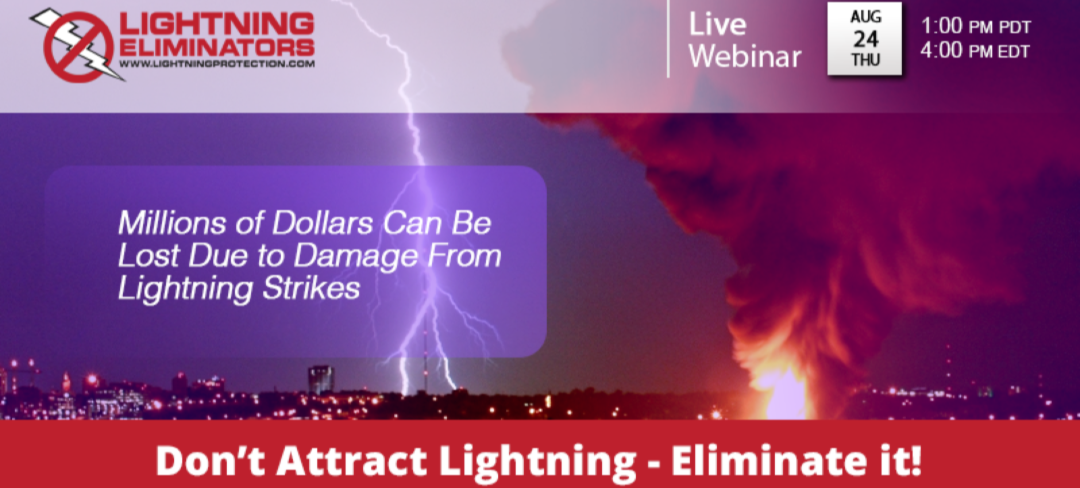 Live Webinar: LIGHTNING SAFETY AND ACCIDENT PROTECTION
Thursday, August 24th 2017 | 1PM Pacific Time

Watch the recorded webinar here!
25-minute Video


---


March 28 – 30, 2017 | Rotterdam, Netherlands | The world's leading international event for the tank terminal industry | See Lightning Eliminators in Booth #C20 | Click hear to learn more. http://www.easyfairs.com/stocexpo-rotterdam-2017/stocexpo-rotterdam-2017/

---
---


April 10 – 17, 2017 | Chicago, IL | This POWER magazine event provides a platform for power generation professionals to meet, network, and address the critical issues facing the power industry| See Lightning Eliminators in Booth #830 | Click hear to learn more.

---




April 18-20, 2017 | Orlando FL | This is the 19th Annual International Aboveground Storage Tank Conference & Trade Show | See Lightning Eliminators in Booth #327 | Click hear to learn more. http://nistm.com/

---
Lightning Protection System
PRESS ROOM
Lightning Protection Systems
Lightning is an inevitable natural phenomenon. The magnitude of one lightning strike is significant amount of energy and can cause major loss of life and destruction of property. The site, elevation, and formation of a structure plays an important role in ascertaining if a lightning protection system is necessary. It is essential to perform risk assessment to measure the potential risks due to lightning strikes for a structure. This will help you to decide on the effective lightning protection system to be implemented for protecting your structure from lightning strikes.
The traditional lightning protection systems consist of a capturing device, down conductors and earth leads. These outdated systems rely on strike collection as the first and only line of defence. It can cause significant destruction, loss of product and downtime to big companies. The lightning eliminators came up with the new approach and engineered a system to prevent lightning from striking inside of a protected area. This technology is passed on ideologies of engineering and physics and is named Charge Transfer System (CTS)
More about the types of Lightning Protection Systems under Charge Transfer Technology:
1. Dissipation Array System (DAS): It prevents direct lightning strikes including fires, destroyed electronics, and downtime within a protected area. It is available in range of configuration to suit any type of structure.
2. Spine Ball Ionizer (SBI): It is a modular lightning protection concept designed to provide manifold layers of protection for important applications. It is used to supplement Dissipation Array installations.
3. Spine Ball Terminal (SBT): It is a superior alternative to air terminals for new or existing lightning protection systems.
4. Ion Plasma Generator (IPG) Solutions: It is the most effective air terminal engineered to special structures like wind turbines and T&D systems. The IPG is used to produce an ideal assembly point in circumstances where strike prevention is less feasible.
Many insurance companies often require lightning protection systems to be installed properly on a property before issuing the home insurance policy. Some Insurance companies even offer a discount on insurance premium, if an effective lightning protection system is installed for the building.
If you are looking for specific type of lightning protection design, contact Lightning Eliminators & Consultants, Inc. (LEC). They are the world leaders in providing integrated lightning protection solutions and services worldwide.