Lightning Protection Blog
Week 113 | July 9, 2015
It's been a while. In the summer I tend to slow down a bit, so big apologies to you all. For the record, I wasn't just hanging out; I was doing something truly exciting. Collecting data!
In March 2015 starting at StocExpo 2015, the ILTI (International Lightning Technology Institute) launched a survey to find out about industries' best practices with regard to Lightning Protection Systems (LPS). In addition, what they use and how well they maintain their LPS.  The survey lasted 3 months and was completed by 111 respondents. Lightning Eliminators was one of the sponsors of this endeavor, and thus, was privileged to be able to review the data and share it accordingly.
I have included some of the findings below, but I feel a little bit of commentary is needed in advance, because frankly I found some of the percentages a little bit shocking!
Although 93% implement lightning protection (actually only 78% use complete lightning protection solutions) 17% don't know, and 7% have none at all.  Out of those lightning protection users, 6% of the participants were the actual decision makers –"Really!! You do not know?" I find this extraordinary and really quite scary.  Compounding this figure, a whopping 61% do not inspect their systems and/or don't know if they inspect their systems; or don't think that inspection is applicable…this readers is the most horrifying finding of the entire survey.
Do you inspect and maintain your car? Why do you do this? Is it so it will run properly and you won't be stranded?  Do you inspect your home? Why do you do this? So you have a roof over your head or perhaps to preserve the value? The same is true of any equipment you have in your facility. In fact, not inspecting and maintaining your lightning protection system could be more dangerous that not having any at all.
To those of you who completed this survey, and are decision makers and who answered yes to the question "Do you have lightning protection?" and answered "No", "I don't know" or "Not Applicable" to the question, "Do you inspect your lightning protection annually?", guess what! You don't have lightning protection and you might actually have equipment that is making you completely vulnerable to a lightning strike and in addition inviting damage to sensitive electronics and equipment.
A few of the participants answered the question "What Type of Lightning Protection?" with the name of a company, rather than system type, which didn't tell us much, but considering the names of several of the companies listed, I would guess that your Lightning Protection Systems consist of the conventional lightning rod ( I have no idea if grounding and surge were involved). Well, "to each there own!" I say, but in addition to where named companies were listed, respondents also said "No" to having inspected their systems annually.
Readers, no matter what type of lightning protection solution you implement, when it goes uninspected and is not maintained it makes your facility a ticking time bomb. I am hopeful that this is just a coincidence and not a lack of protocol on the side of the vendors which provided the solution, because that would be unconscionable. I am equally confident (albeit disappointed) that it is more so the case that you and/or your organization just think it is not important and unnecessary. Why spend the money? Well, I will not stand on ceremony here. You are wrong! You have heard me say this repeatedly, but I am going to say it again. "It only takes one strike" and "One strike can cost you millions!"
I am not sure why I am shocked. We have known for years that the majority of customers come to us after the fact, and as much as we relish the business, it boggles our minds that this is the case. So, after multiple blogs on the subject, lecturing and restating at this point I am going to plead with you, "please get your systems inspected, so that proper maintenance can be done." If the company that installed the system does not offer this service or neglects to recommend it, we will be happy to do so and/or find someone who will assist you. Inspection and maintenance are key and extremely necessary! Considering the main industries who participated in this survey it troubles this Lightning Diva that several are operating under such dangerous conditions and the potential of faulty or damaged equipment is imminent.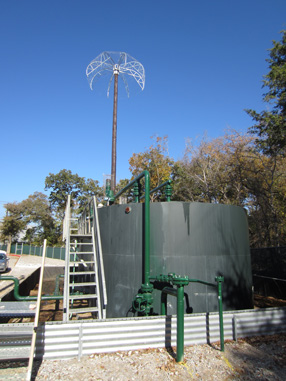 I am not going to discuss the pros and cons of collection vs. prevention in this summary, because those of you, who read my blog, know where I and my company stand on the matter. There were several respondents who actually do employ our technology for their Lightning Protection Systems needs, which was nice to see. All in all, it is great to see that the majority of you use some type of lightning protection, because as lightning becomes more frequent and volatile over the next 50 years it is imperative to have a solution in place.
The last finding is that 63% do not even know what there risk is. A lightning vulnerability test is basic and a simple process. It can be done over the phone. We do them quite frequently. At the very least industrial facilities should be aware of their lightning vulnerability.
Below are the findings of the survey and which industries participated in the survey.  Enjoy!
The LightningDiva@Large
Respondent characteristics:
Industry Type:
13% Electric Power
9% Construction/Infrastructure
8% Oil and Gas
7% Energy
7% Engineering Consulting or Construction Firms
6% Utility
5% Manufacturing
3% Government
3% Chemical
39% Other (3 or less respondents: Logistics, Real Estate, Education, Healthcare, Entertainment, Broadcasting and Publishing)
Function:
42% Supervisory Level (Director, Manager, V.P. Supervisor, Lead)
40% Worker (non-supervisory position)
18% (Employees who not related to Lightning Protection, but who work for Industrial Companies who use and/or need lightning protection)
Department:
38% Engineering (Electrical, Mechanical)
20% Safety
15% Operations/Maintenance
27% (Other: Construction, Training, IT, Project Management, other or Unspecified)
Employ Lightning Protection
93% Yes (15% only use grounding and surge protection with no LPS)
7% No
Decision Maker (Respondent status)
60% Decision Makers for their company
40% Not Decision Makers
Inspect Systems Annually (With lightning protection)
32% Yes
33% No
22% N/A
6% Unknown
7% No lightning protection
Conducted a Lightning Risk Assessment
63% No
37% Yes
What Type of Lightning Protection
61% Complete LPS including grounding and surge protection
17% Did not know (Note: 6% who answered "did not know" are decision makers)
15% Grounding and/or Surge only
7% No Lightning Protection
Visit the Lightning Protection Blog or www.LightningProtection.com for more lightning protection education, services and solutions.
If you have any lightning stories you would like to share with us, positive or negative and/or if you have any questions or need additional information please feel free to contact me at LightningDiva@lecglobal.com
Be careful out there! Visit www.lightningprotection.com for all your lightning protection needs. Follow us on Twitter, Facebook, YouTube and LinkedIn for more information and updates as well as some great photos.